Who We Are
Oakbank-Springfield Kinsmen Seniors' Complex Inc. is a non-profit, charitable organization. We are an independent living facility for seniors. We operate under a Board of Directors that is overseen by the Oakbank-Springfield Kinsmen who originally built Kin Place. The Board of Directors is made up of community members and oversees Kin Place, Springfield Place and the Springfield Congregate Meal Program as well as commercial and community space at Kin Place.
Read More About Us >>
We are happy to partner with the Kinsmen
Community
50/50 Draw

If you would like to buy 50/50 tickets and support us
Please click the link below.
GALA October 1, 2022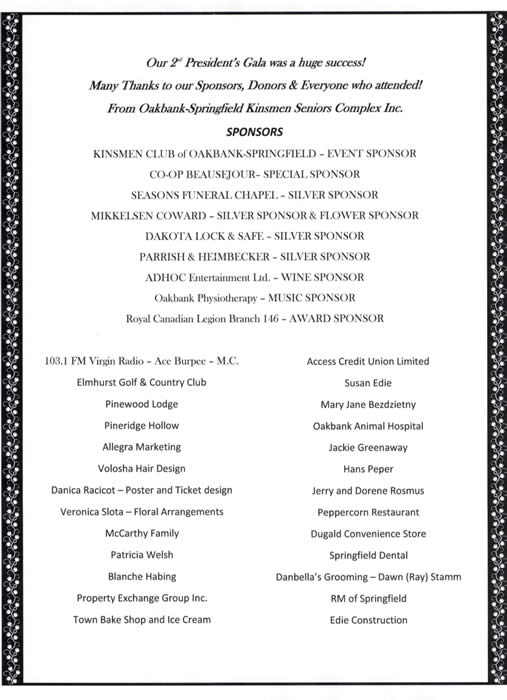 "SAVE THE DATE! TO BE ANNOUNCED
The Board of Directors of the Oakbank-Springfield Kinsmen Seniors Complex Inc. hosted its' second President's Gala on Saturday, October 1, 2022 at Elmhurst Golf and Country Club.
Patrons enjoyed a beautiful dinner, live entertainment and honoured one of Springfield's own volunteers at the dinner.
Thank you, Everyone
.
VOLUNTEER AWARDS CRITERIA - The Board of Directors is seeking nomnations for our Volunteer of the Year Award to be presented at the President's Gala Evening. The award is open to any resident or former resident of Springfield who serves in an unpaid capacity. This person needs to be someone who has contributed significant volunteer time and service to the seniors community. He or she should have demonostrated initiative and leadership in a project or projects that has helped create housing opportunities or improve social well-being of seniors as well as display qualities and attributes worthy of this award. Please print the Application Form below if you wish to nominate someone