Who We Are
Oakbank-Springfield Kinsmen Seniors' Complex Inc. is a non-profit, charitable organization. We are an independent living facility for seniors. We operate under a Board of Directors that is overseen by the Oakbank-Springfield Kinsmen who originally built Kin Place. The Board of Directors is made up of community members and oversees Kin Place, Springfield Place and the Springfield Congregate Meal Program as well as commercial and community space at Kin Place.
Read More About Us >>
"SAVE THE DATE! Next GALA October 21,2023
On October 21st, 2023 we will be hosting our 3rd President's Gala Dinner at Elmhurst Golf and Country Club. The funds raised will be used to improve safety and enhance the quality of life for seniors in our facilities at Kin Place and Springfield Place.
For more information please contact Clare Reimer 204-444-3132 ext. 3
The Board of Directors of the Oakbank-Springfield Kinsmen Seniors Complex Inc. hosted its' second President's Gala on Saturday, October 1, 2022 at Elmhurst Golf and Country Club.
Patrons enjoyed a beautiful dinner, live entertainment and honoured one of Springfield's own volunteers at the dinner.
Thank you, Everyone
GALA October 1, 2022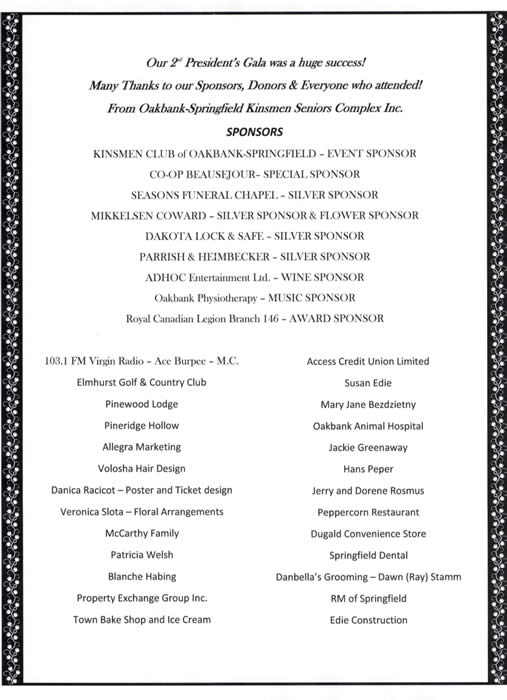 .